Baxter Locksmith Serving Yuma County, AZ: Residential, Automotive & Commercial Locksmith Services
Looking for a professional locksmith in Baxter, Yuma AZ? You can count on Affordable Security Locksmith And Alarm, one of the premier local locksmiths in Yuma County. We serve Zip code 85365, and the rest of Yuma County. Affordable Security Locksmith And Alarm takes pride in being among the […]
Looking for a professional locksmith in Baxter, Yuma AZ? You can count on Affordable Security Locksmith And Alarm, one of the premier local locksmiths in Yuma County. We serve Zip code 85364, and the rest of Yuma County.
Affordable Security Locksmith And Alarm takes pride in being among the top locksmiths in Yuma County. Our range of services includes residential locksmith, commercial locksmith and automotive/car locksmith. With four stores in Yuma County, one each in Yuma, Fortuna Foothills, Somerton and San Luis, we are a local and 100% professional Baxter locksmith company you can trust.

Professional Baxter locksmith company — Affordable Security Locksmith And Alarm Don't waste any time trying to find a top-rated locksmith in Baxter, Yuma (Arizona). Affordable Security Locksmith And Alarm is the Baxter locksmith company you can trust for residential, commercial & automotive locksmith services.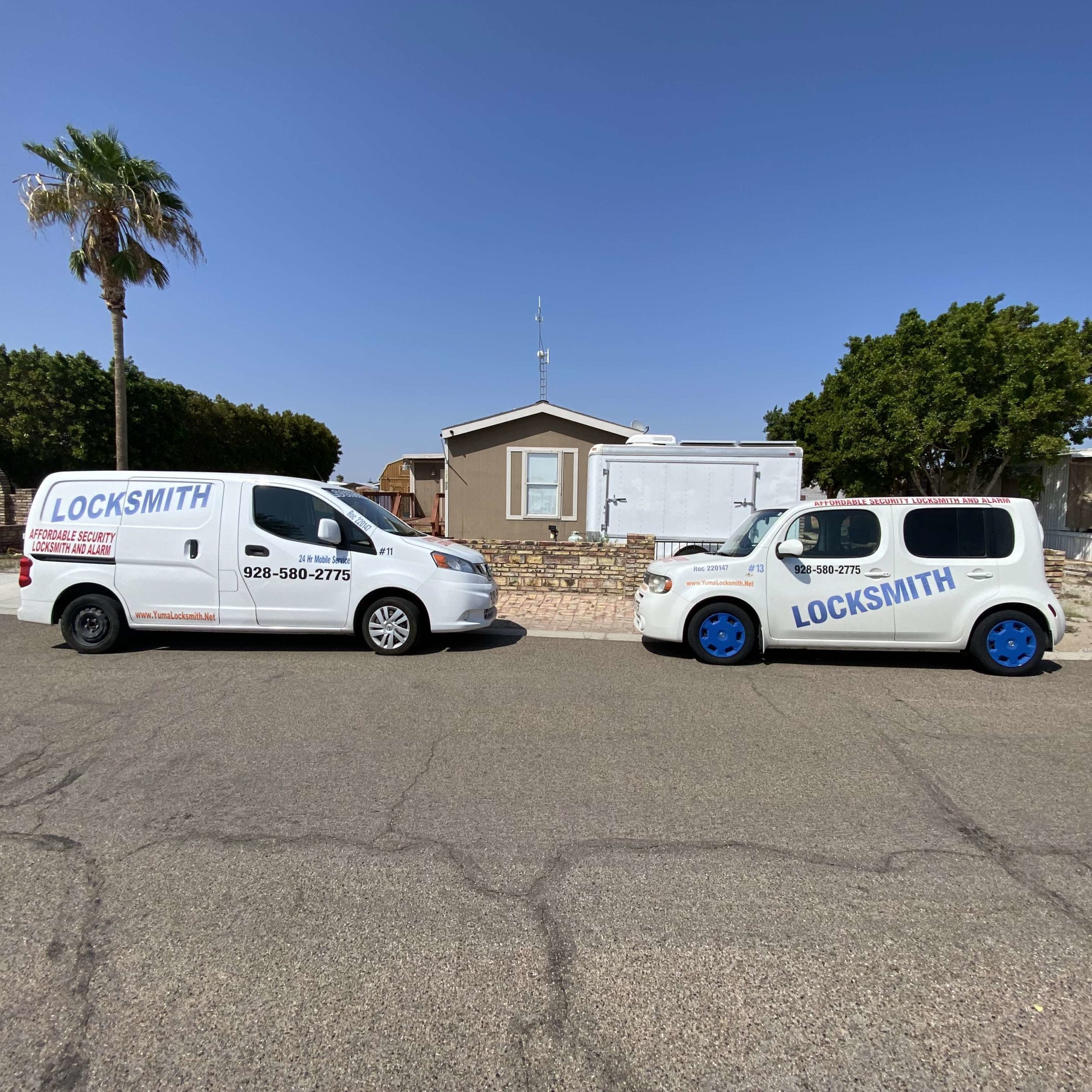 Local Baxter – Yuma Locksmith
Serving since 1995, Affordable Security is a local and family-owned and operated business in Yuma County. Unlike locksmith dispatchers, we have real stores in your area. We are part of the community. When you need a reliable locksmith, you can count on Affordable Security.
Affordable Security Locksmith And Alarm is dedicated to delivering the best locksmith services. In our effort continuously upgrade our service, we participate in trade bodies. We are a member of  National Automotive Service Task Force (NASTF). We are licensed, insured and bonded. Affordable Security Locksmith And Alarm locksmiths constantly undergo training and keep themselves updated with the latest technologies so that we can serve you better.
Whether you are locked out of your home, lost your car keys, lost keys to your apartment or broken car keys in Baxter – Arizona, don't fret. Our lock experts are available for locksmith services in Baxter, Yuma AZ. We are based near you, with our locksmith shop in Yuma, Arizona.
Don't hire just any random locksmith from the internet. Count for your Baxter locksmith service requirements with one of the most reliable Yuma locksmith with hundreds of five-star reviews and ratings.
Apart from serving Baxter, we provide residential locksmith services, commercial locksmith services and automotive locksmith services in whole of Yuma, AZ. Affordable Security is a car keys expert and key copy expert. In Yuma Baxter, our locksmiths are available for cheap & affordable locksmith solutions, duplicate keys, car key replacements, duplicate keys and much more.
Baxter Residential Locksmith
Do you need a residential locksmith in Baxter, Yuma AZ? Locked out of your house in Baxter, Yuma? Need duplicate house keys for your home in Baxter, AZ? Looking to install security locks in your Baxter home or need an Baxter eviction locksmith? Affordable Security is an expert residential locksmith in Yuma AZ.
Some of our Baxter residential locksmith services are:
House Lockouts
Lock Rekey
House Rekeying
Duplicate Keys
Lock Picking
Hardware Installation
Master Keying
Digital Locks
Key Fobs
Door Locks
High Security Locks
Mailbox Lock Replacement
Service Old Locks
Eviction Locksmith
Padlocks
Cabinet Locks
Safes
Repair Old Locks
HOA Locksmith
Door Handles
Don't risk the safety of your family and property. Hire one of the best Baxter residential locksmith. Get your house rekeyed, door locks picked, repair or replace faulty locks, install new door locks, or secure your home with surveillance systems.
Baxter Automotive Locksmith
Need car keys made or urgently need a trustworthy automotive locksmith? Have you lost your car keys in Baxter, Yuma? Looking for car keys in Baxter, AZ? Affordable Security is a car keys expert providing the whole range of automotive locksmith services in Baxter, Yuma.
Here are some of the automotive locksmith services provided by us in Baxter, Yuma:
Car Keys
Car Lockouts
Duplicate Car Keys
Lost Car Keys
Ignition & Remote Keys
Laser Cut/ Sidewinder Keys
Transponder Keys
Computer Chip Keys
VATS Keys
High Security / Dealer Only Keys
Motorcycle Keys
Scooter Keys
Honda / Acura / Toyota / Lexus Immobilizer Reflashing
Ignition/ Door Lock Repair and Replacement
Re-Key Entire Vehicle
Key FOB Reprogramming
Broken Key Extraction
Emergency Auto Locksmith
Mobile Auto Locksmith
When you need car / automotive locksmith or motorcycle locksmith in Baxter Yuma, give us the first and only call for professional locksmith services with fair prices. For all your car keys & replacement keys needs in Yuma's Baxter, just reach us for quick and reliable locksmith services.
Baxter Commercial Locksmith
Affordable Security is a full-service Yuma locksmith company. Apart from providing residential and automotive locksmith services, we also provide commercial locksmith services in Baxter, Yuma. We have helped local businesses and establishments with our locksmith and security hardware services.
We have helped hundreds of local businesses keep their stores and offices safe. Don't risk your safety. Connect with us today! As a business owner or an owner of commercial property, you need a reliable commercial locksmith by your side. Our commercial locksmith services are available for stores, offices, schools, hospitals, healthcare centers, multi-location offices and local businesses.
Installation and service of access control systems is one of our popular commercial locksmith services. You can control access to your commercial building and residential complex by installing a modern access control system. Some of the options for access control systems include electric locks, electric hinges, electric strikes, magnetic locks, standalone locks with keypads, and digital access control systems.
With a team of professional & licensed locksmiths, we can secure your business premises, install access control systems, security cameras, bolts, strikes and other security devices. Keep your office, shop, warehouse and building safe with top security systems. Get master keying done, cabinet locks, padlocks and other high-security locks for your business in Yuma AZ Connect with us for all types of hardware installation services too. We also provide safe and vault locksmith services. Let us open safes and GSA safes for you.
Affordable Security has GSA-certified locksmiths for container inspection and recertification services in Yuma County and beyond. We work with GSA safe opening, GSA locks (Kaba Mas CD X10, X09, X08, X07, SG Locks, etc.), GSA-approved container inspection and certification such as Class 5, Class 6 GSA safes and vaults. Only authorized technicians can inspect and recertify GSA containers and vaults. We have trained and authorized technicians in accordance with the DoD Lock Program.
For all your Baxter locksmith requirements, reach us today. Keep your property, family, and business safe. Stay in compliance with local business security laws. Your satisfaction and great customer-friendly service is our priority. We want to be your preferred Baxter locksmith!
Let us be your trusted locksmith professional in Baxter AZ. Give us a call and we will come to you anywhere in Baxter Yuma, AZ. Hire us for honest and professional services.
Frequently Asked Questions
---
Who are the best locksmiths in Baxter?
Affordable Security Locksmith And Alarm takes pride in being one of the top locksmiths in Yuma. We have been serving Baxter since 1995.
What are the locksmith services you provide in Baxter?
Affordable Locksmith is a full-service locksmith. In Baxter, we provide residential, commercial and automotive locksmith services. We are available across Yuma County.
Do you provide mobile locksmith services in Baxter?
Of course, yes! Our mobile locksmith vans are always ready to go anywhere in Yuma County, including Baxter.
Can I get a free quote for my Baxter locksmith need?
As an honest Baxter locksmith, we provide correct and fair price quotes. Call (928) 580-2775 or email us for a free estimate.
Are you a cheap Baxter locksmith?
Our locksmith services are fairly priced and competitive with other honest locksmiths in Baxter. We are affordable and value for money, if not always the cheapest.